What if something happens to my fire pit?
Lifetime Guarantee
We are so confident in our fire pits that we offer a life time guarantee on all of them. If anything ever happens to your fire pit, we will replace any damaged part FREE of charge no questions asked.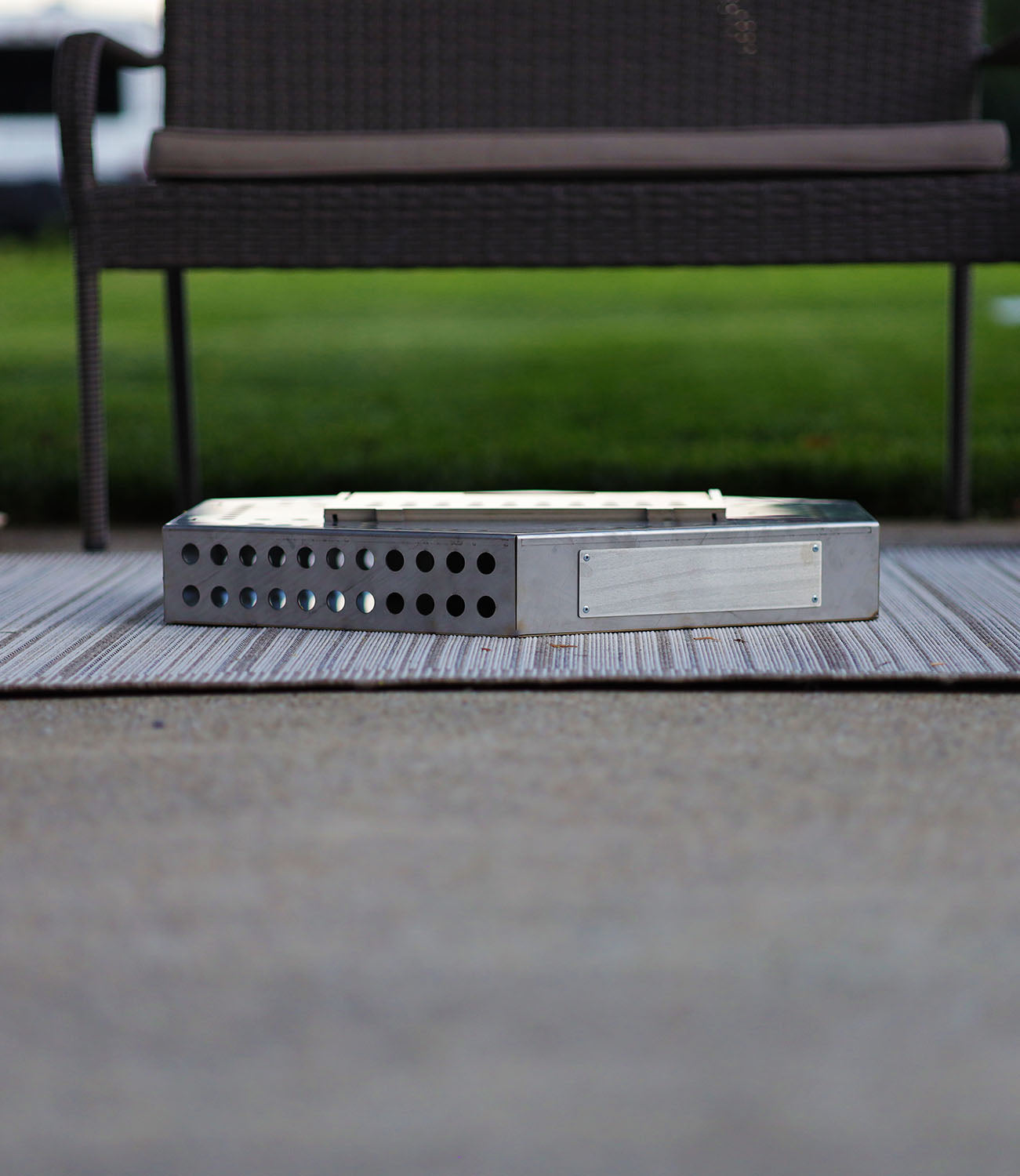 Collapsible, Portable, Simple.
Take up less space when not being used.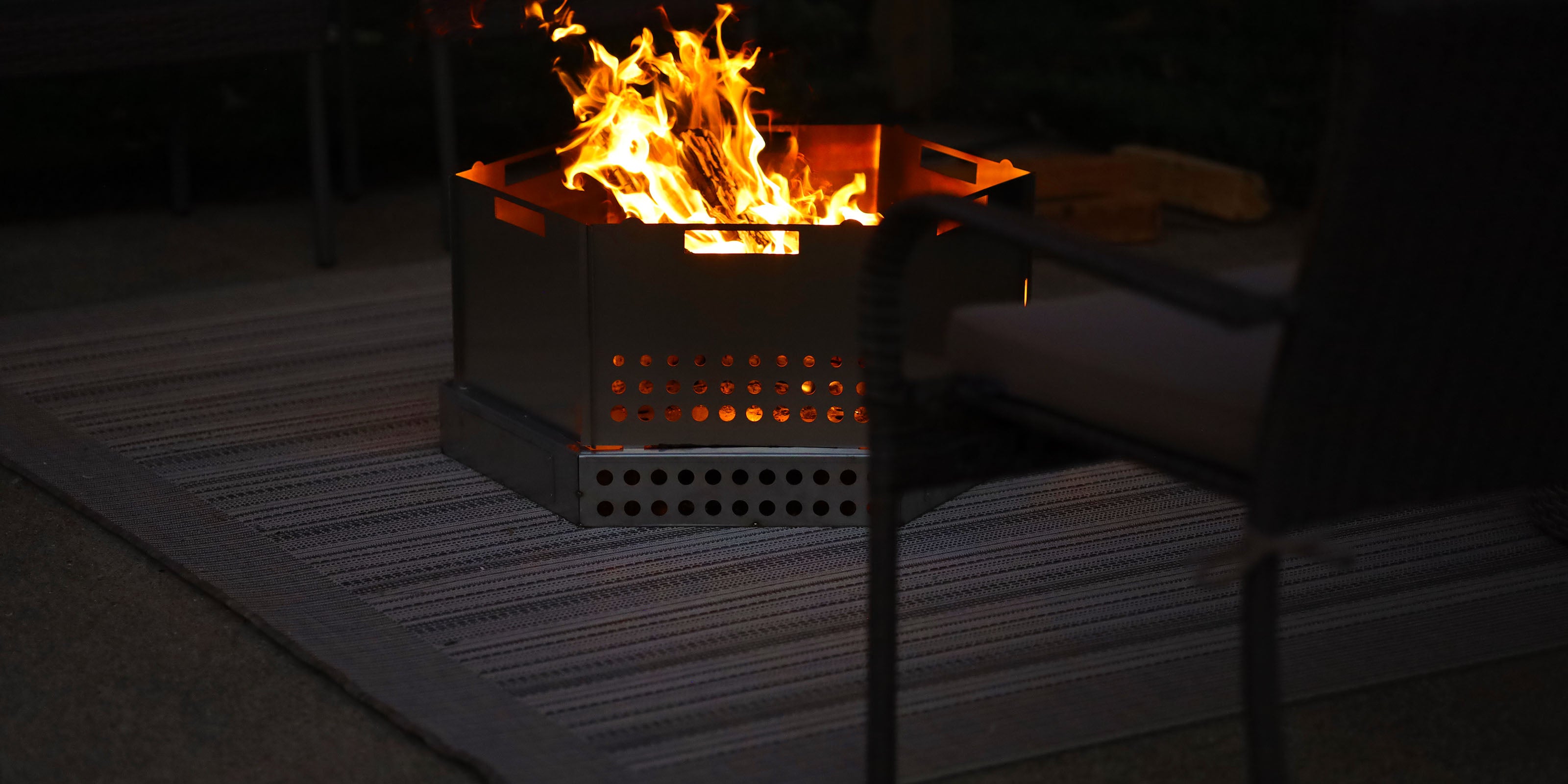 Cozy, Inviting, Entertaining.
Heat up your patio and enjoy your fire pit.
How Are We Smokeless?
Stage 1 of Combustion
The first stage occurs with oxygen entering through the sides of the smokeless base and passing up through the floor in to the under side of the fire.
Stage 2 of Combustion
The second stage occurs with oxygen entering through the sides of the fire pit walls and over the top of the fire, engulfing and burning any remaining smoke that tries to escape.
3.75"
when collapsed down for travel or storage in the off season
Running out of storage space? Traveling somewhere in a small car or camper with limited room? No problem! Our patent pending collapsible smokeless fire pit design allows you to make your large fire pit less than 4 inches tall when broken down allowing for on-the-go portability to matter your situation.
"I cannot say enough about how amazing this fire pit is. It's better than I expected but that's not hard to believe. The owners of this company are stand up guys and some of the kindest people you'll ever work with. Their website was easy to navigate and get exactly what I wanted ordered and I received it very quickly. You will not be disappointed with your order."
"I love my firepit. It is a very thick and sturdy design. I am very pleased with my purchase"
"We love our Baird Built firepit!"
"I am so happy and very pleased with my order. They are exactly what I thought they would be and I love them! I will definitely be ordering from them again. Also, I appreciated the note that was handwritten at the bottom of my invoice. It was nice to see that an owner would take the time to write a personalized note - to me that means a lot! Thank you again Jerrod and Jordon."
A Small Start With A Big Dream
Fortus Flame was built in rural USA with the idea that with hard work and a dream, anything could be achieved. Today we ship all across the United States and have millions of people seeing our products.
Our Story
FAQ
Check out the most common questions our customers ask. Still have questions? 
Contact our customer support.
Are your fire pits smokeless?

Simply put, yes. Every fire will product some degree of smoke, especially when getting started and building temperature. Smokeless means that the amount of smoke produced is significantly less than the standard fire pit.

Once your fire is up to temperature you will have no issues with smoke.

We recommend always using dry wood that is reasonably sized. Do not use over sized logs. If you are using wet wood, even a smokeless fire pit won't be able to work. Water + Fire do not mix.
Step 1. Lay dry logs 2x2 parallel and across the top of each other and add kindling/small wood chunks in the center. Light your fire.

Step 2. Once your fire is lit, make a tee-pee shape with more dry wood to allow the fire to reach the order burn holes. Make sure the base of your tee-pee is resting against the edges of the fire ring to allow oxygen to reach the edges of the logs.

Step 3. Enjoy your fire and add more logs as necessary. Don't worry about log orientation at this point. Your fire should have plenty of heat.
How do I cook on my fire pit?

We supply grilling accessories for the outdoor adventurist looking to make cooking fun.

Grilling grate: Establish a fire with plenty of heat but allow your fire to die down before grilling so the flames don't burn your food. Remember: when you use a standard grill flames are no good. Even when the flames go away, there will be plenty of heat and your fire will be so hot that smoke will not be an issue. Remember to always use dry wood as well to avoid smokiness.

Flavor Savor Searing Plate: Refer to our instructional video in the main menu on how to season and use your sear plate properly without damaging it.
How long will it take to get my order?

Shipping times vary based on geographical location but take no more than 3 business days maximum. Orders processed at Baird Built will take 5-7 business days to arrive after ordered. Delivery details will be provided in your confirmation email.
For further questions, please reference our support tab at the top of the page and click "FAQ."

If your question still is not answered, you can contact us through "contact us" under the support tab! We will be happy to assist you!