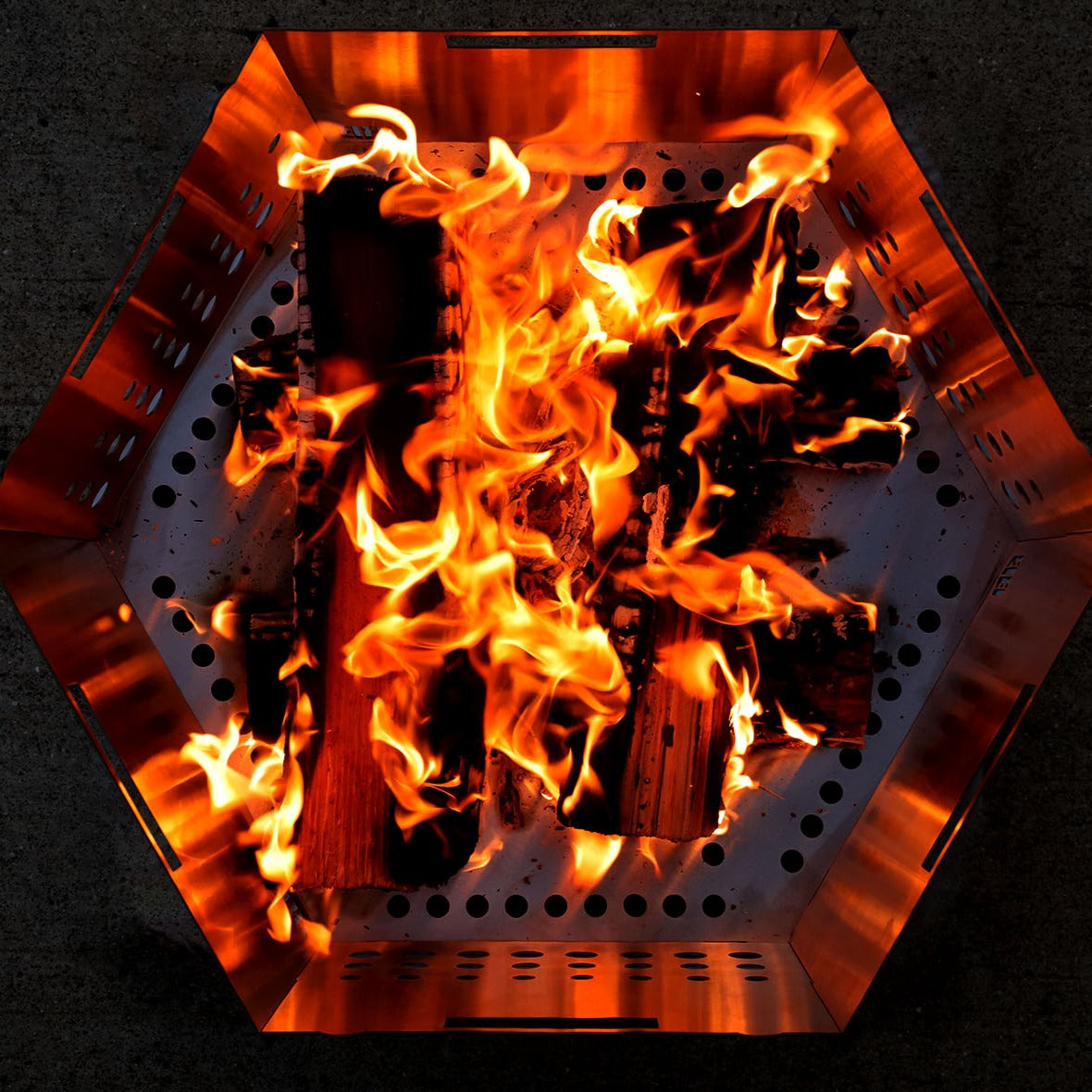 6 Series Compact Smokeless Fire Pit
[Most Popular For RVs and Camping]
[Fire Starter Included]
---
• Smokeless Design: Our patent-pending smokeless technology ensures that you have a smoke-free experience so you can get back to enjoying those wood fires that you grew up on, minus the smoke.

• Thick Stainless Steel Base: Smokeless fire pit base crafted from 304 American Stainless Steel.

• Compact 6 Sided Panel Design: Fire pit panels are foldable, making the 6 Series Compact portable in any scenario. Also crafted from 304 American Stainless Steel.

• American Made: We use the highest precision equipment on the market including fiber lasers, precision press brakes, and laser welders and craft each fire pit by hand in our own facility.

• Built In Universal Tab System: The 6 Series Compact comes with a built in tab system on three opposing panels to correspond with a range of Compact accessories made specifically for it, including a grill, sear top, and lid.

• Easy Assembly: The 6 Series Compact is very user-friendly, coming with user instructions on the fire pit set assembly and log placement instructions. There are also user videos on our website with step by step tutorials make it user friendly for any age to use.
• Low Smoke Design: Benefit: Our patent-pending design delivers a comfortable and smoke-free experience. No more burning eyes for you or your guests.

• American Made: Benefit: Durable 304 stainless steel construction ensures long-lasting durability and performance.

• Collapsible & Portable: Benefit: The 6 Series Compact is made with a 6-sided hinged design for easy transport or storage. No more leaving your fire pit out all winter or running out of room when you travel. Now you can take your fire pit with you no matter where you go.

• Safety & Reliability: Benefit: Structurally solid inter-locking design prioritizes safety, ensuring a secure outdoor setup.
• Fire Pit Base: 304 Food Grade American Stainless Steel

• Fire Pit Panels: 304 Food Grade American Stainless Steel
• Assembled Size Set Up: 24" wide x 12.75" tall

• Disassembled Size For Storage or Transport: 24" wide x 3.5" tall
FREE shipping and FREE returns. 30 day MBG.

Refer to our Return Policy here for more information
Purchase The Complete Set